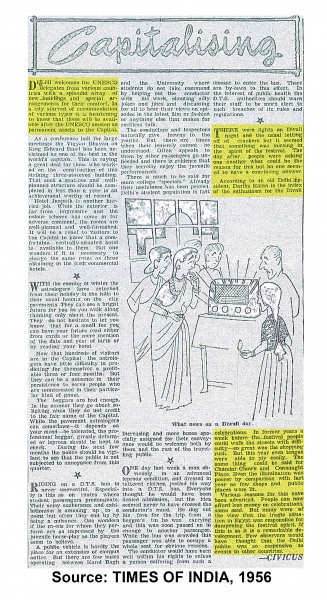 DELHI welcomes the UNESCO delegates from various countries with a splendid array of new buildings and special arrangements for their comfort. In a city starved of accommodation of various types it is heartening to know that these will be available after the UNESCO session as permanent assets to the Capital.
THERE were lights on Diwali night and the usual letting off of crackers but it seemed that something was missing in the spirit of the festival. The day after people were asking one another what could be the reason for this but no one seemed to have a convincing answer.
According to an old Delhi resident, Dariba Kalan is the index of the enthusiasm for the Diwali celebrations. In former years a week before the festival people could walk the streets with difficulty- so great was the shopping rush. But this year even tongas were able to ply easily. The same thing could be said for Chandni Chowk and Connaught Place. Even the illumination was poorer by comparison with last year as few shops and public places were lit.
Various reasons for this have been advanced. People can now afford less money on celebrations, some said. But many were of the view that the tragic situation in Egypt was responsible for dampening the festival spirit. If this is so it is a remarkable development. Few observers would have thought that the Delhi public was so responsive to events in other countries.