Positives
Through reform, India overcame its worst economic crisis in the remarkably short period of two years.
Thanks to prudent macroeconomic stabilization policies including devaluation of rupee and other structural reforms, the BoP crisis was over by the end of March 1994 and foreign exchange reserves rose to USD 15.7 billion. Inflows of both FDI and FII into India have increased massively.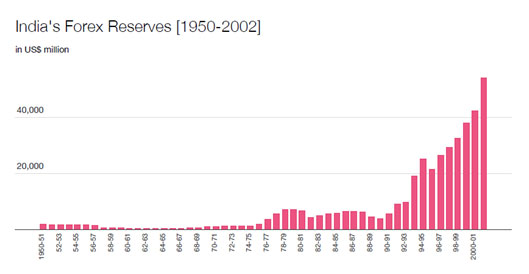 Source: Economic Survey of India 2013-14
India also increasingly integrated its economy with the global economy. The ratio of total exports of goods and services to GDP in India approximately doubled from 7.3 percent in 1990 to 14 percent in 2000. This rise was less dramatic on the import side but was significant, from 9.9 percent in 1990 to 16.6 percent in 2000. Within 10 years, the ratio of total goods and services trade to GDP rose from 17.2 percent to 30.6 percent.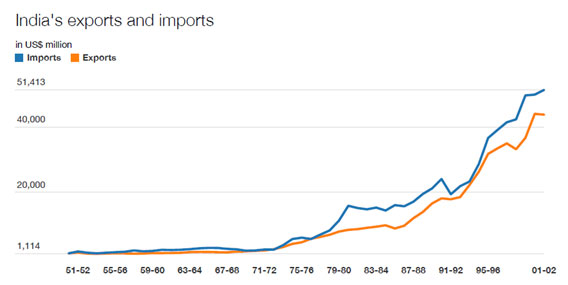 Source: Economic Survey of India
Reforms led to increased competition in the sectors like banking, leading to more customer choice and increased efficiency. It has also led to increased investment and growth of private players in these sectors.
There was a fall in inflation rates as reforms pushed up production of goods and services resulting in either prices falling or remaining constant. Competition also helped to keep inflation in check.
There was a significant Improvement in GDP, from __ in 1950, to ___ in 2000.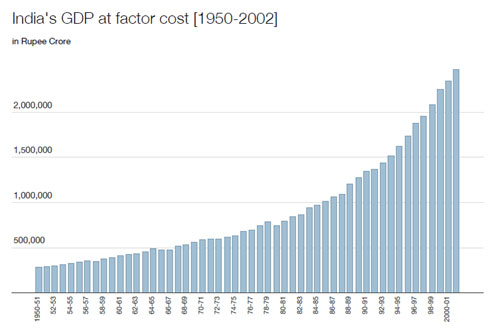 Source: Economic Survey of India
Impact of Reforms Post-1992
Poverty reduced from 36 percent in 1993-94 to 26.1 percent in 1999-00. The poverty ratio in rural areas and in urban areas declined.
There was an increase in air travel and expansion in the civil aviation sector due to reforms. In order to promote competition, the government adopted the Open Skies Policy (through which private players were allowed into aviation sector) in 1991. The results of this policy are visible today with private players in the domestic aviation market as well as the international markets.
Number of Flight Passengers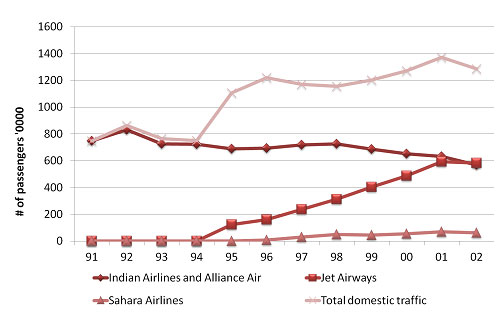 As a result of the reforms that opened the borders to foreign goods, there was easier access to foreign technology. A good example of this is cell phone technology.
The post 1991 era also saw an expansion of the automobile sector, easy availability of motor vehicles, increased competition in the sector and reduction in prices of motor vehicles.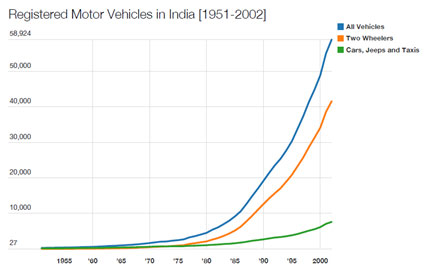 Source: data.gov.in
Once India developed a name in the global markets, there was also an increase in the number of foreign tourists.
Reforms led to the achievement of recognizable increases in international competitiveness in a number of sectors including auto components, telecommunications, software, pharmaceuticals, biotechnology, research and development, and professional services provided by scientists, technologists, doctors, nurses, teachers, management professionals and similar professions.
There was a vast expansion of the telecommunication sector. In fact, this sector has been one of the biggest beneficiaries of economic reforms. Once heavily shackled by regulation and government monopoly, the sector now has several competing service providers. The telecom policy evolved from the National Telecom Policy in 1994 to open up all the sectors to private players.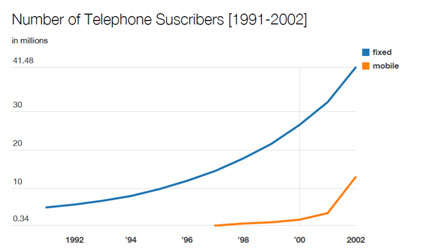 Source: Department of Telecommunications (2005)
Negatives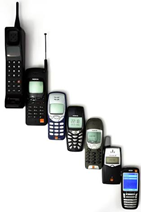 Evolution of Mobile Phones
The reforms were largely in the formal sector of the economy, the agriculture, urban informal sector and forest dependent communities did not see any reforms. This led to uneven growth and unequal distribution of economic freedom among people.
Economic liberalization in the organized manufacturing sector (subjected to rigid labor laws) has led to growth with very little additional employment.
Market-based economic reforms also often lead to increasing disparities between the rich and the poor and between infrastructurally backward and more developed states.
Social sectors like health and education have been neglected. These areas, though very important, were not focused upon and the result can be seen in the dismally low levels of education and health indicators today.
Economic reforms have accelerated growth but failed to generate adequate employment. For example, the rural unemployment rate, after declining to 5.61 percent in 1993-94, rose to 7.21 percent in 1999-2000 as did the All-India (urban plus rural) rate of unemployment.