In 1947, India was a new country racked by pains of the Partition and the dire poverty of her people. Nonetheless, the Indian Constitution bestowed the right to vote to every adult, making her the first democracy to guarantee universal adult franchise at birth. The Constitution protected basic personal freedoms of movement, assembly, conscience and expression. So in terms of political and personal freedoms, India was a constitutional republic or a liberal democracy from her birth.  This was a great achievement.
For economic arrangements, the Constitutional Assembly considered the idea of declaring India a socialist nation. However it rejected the idea, largely on the argument by Dr Ambedkar that economic system should be left free to adjust to the changing demands of the people and the Assembly should not bind the people to any one type economic system forever.
However, socialism was not just in the air but also in the hearts and minds of most intellectuals and political leaders. Unlike in the Soviet Union and China that abolished private property and put the government directly in charge of all economic affairs, India followed a middle path. The Indian state implemented central planning with myriad controls over prices and quantities to achieve a "socialist pattern of society."
Rajaji, the founder of the first market friendly political party, the Swatantra Party, in late 1950s coined the term "Quota-Permit-License Raj" to describe the Indian model of socialism.
Development of the License Raj:
Industrial Policy Resolution, 1948: government monopoly was established in armaments, atomic energy, railroads, minerals, iron & steel industries, aircraft, manufacturing, ship building and telephone and telegraph equipment
Industrial Policy Resolution, 1956: extended the preserve of the government from 17 industries to a further 12 industries.
1956: Life Insurance business nationalized
1969: Large commercial banks nationalized
Monopolies and Restrictive Trade Practices Act, 1970: designed to provide the government with additional information on the structure and investments of all firms with assets of more than Rs 200 million, to strengthen the licensing system. This was done in order to decrease the concentration of private economic power, and to place restraints on business practices considered contrary to public interest.
1973: General Insurance business nationalized
Over the years, the central and state governments formed agencies and companies engaged in finance, trading, mineral exploitation, manufacturing, utilities and transportation like Hindustan Insecticides, Ashoka Hotel Corporation, Tyre Corporation of India, Air India, GAIL, SAIL, ONGC, etc.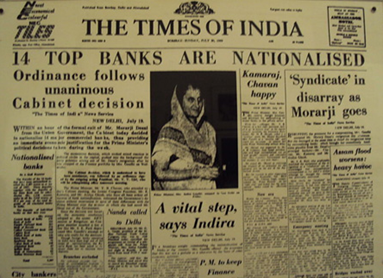 14 commercial banks nationalized in 1969
Key features of the License Raj:
Licenses were required for starting new companies, for producing new products or expanding production capacities.
Businesses had to have government approval for laying off workers and for shutting down
Virtually shut off imports with high tariffs, low import quotas and outright banning of import of certain products. For example, the import tariff for cars was around 125% in 1960.
India in 1985 had the highest level of tariffs in the world. Nominal tariff rates as percentage of values in 1985 were: 146.4 percent for intermediate goods; 107.3 percent for capital goods; 140.9 percent for consumer goods and 137.7 percent on manufacturing goods.
In addition to over-regulating the private sector the Government of India nationalized heavy industry (the commanding heights of the economy) and built new state-owned enterprises (SOEs) in areas as diverse as jute mills to hotels to steel plants.
Impact of the License Raj:
The following table shows the difference in growth rate of the Indian economy as compared to that of other countries in Asia:
Comparative Growth Rates of Developing Economies
Average Annual Rates 1960-1988
Country

Growth Rate of Industrial Production

GDP

 

1960-1980

1980-1988

1960-1980

1980-1988

India

4.6

7.6

3.5

5.4

South Korea

15.2

12.6

8.8

10.1

Taiwan

12.8

7.2

9.6

7.4

Singapore

12.1

4.5

9.2

6.9

Pakistan

8.0

7.2

4.4

6.3

Thailand

10.3

6.6

7.4

6.5

Hong Kong

10.3

7.5

9.9

7.4

Indonesia

8.9

5.1

5.9

5.7