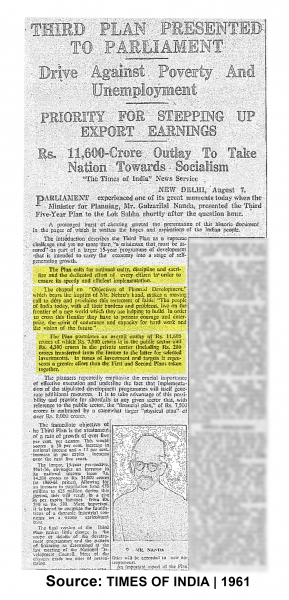 The plan calls for national unity, discipline and sacrifice and the dedicated effort of every citizen I order to ensure its speedy and efficient implementation.
The chapter on "Objectives of Planned Development" which bears the imprint of Mr. Nehru's hand, makes a moving call of duty and proclaims this testament of faith: "The people of India today, with all they burdens and problems, love on the frontier of a new world which they are helping to build. In order to cross this frontier they have to possess the courage and enterprise, the spirit of endurance and capacity for hardworking and the vision of future."
The plan postulated an overall outlay of Rs. 11,600 crores of which Rs. 7,500 crores is in the public sector and Rs. 4,300 crores is in the private sector including Rs. 290 crores transferred from the former to the latter for selected investments. In terms of investment and targets it represents a greater effort than the First and Second Plans taken together.