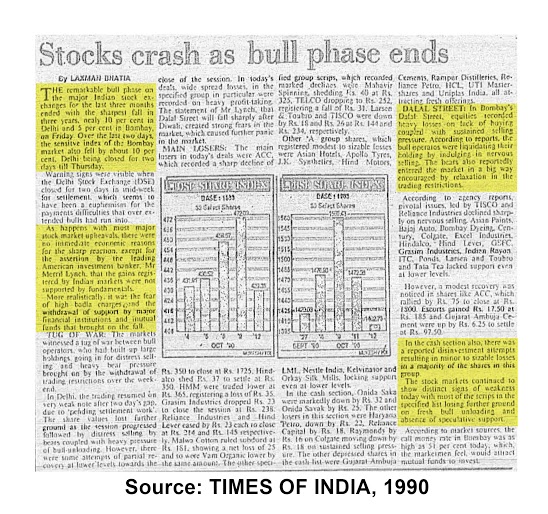 The remarkable bull phase on the major Indian stock exchanges for the last three months ended with the sharpest fall in three years,nearly 10 percent in Delhi and 5 percent in Bombay on Friday.Over the last two day,the sensitive index of the Bombay market also fell by about 10 percent.Delhi being closed for two days till Thursday.
As happens with most major stock market upheavels,there were no immediate economic reasons for the sharp reactions,except for the assertion by the leading American investment banker Mr. Merol Lynch,that the gains registered by Indian markets were not supported by fundamentals.
More realistically,it was the fear of high badla charges and the withdrawl of support by major financial institutions and mutual funds that brought on the fall.
DALAL STREET:In Bombay's dalal street,equities recorded heavy losses on the lack of having coupled with sustained selling pressure.According to reports,the bull operates were liquidating their holding by indulging in nervous selling.The bears also reportedly entered the market in a big way encouraged by relaxation in the trading restrications.
In the crash section also,there was a reported disinvestment attempts resulting in minor to sizable losses in a majority of the shares in this group.
The stock markets continued to show distinct signs of weakness today with most of the scripts in the specified list losing further ground on fresh bull uploading and absence of speculative support.