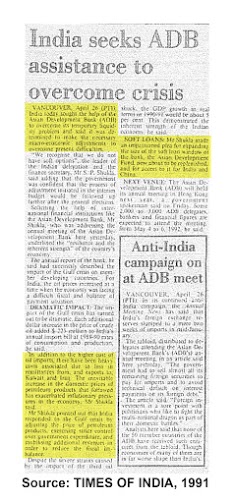 India today sought the help of the Asian Development Bank(ADB)to overcome its temporary liquidity problem and said it was determined to make the necessary macro-economic adjustments to overcome present difficulties.
In addition,to the higher cost of oil imports,there have been heavy costs associated due to loss in remittances from and exports to,Kuwait and Iraq.The inevitable increase in the domestic prices of petroleum products that followed has exacerbated inflationary pressures in the economy,Mr. Shukla said.
Mr. Shukla pointed out that India responded to the Gulf Crisis by adjusting the price of petroleum products,excercising strict control over government expenditure,and mobilizing additional resources in order to reduce the fiscal imbalance.
SOFT LOANS:Mr. Shukla made an impassioned plea for expanding the size of the soft loan window of the bank,the Asian Development Fund,now about to be replenished,and for access to it for India and China.