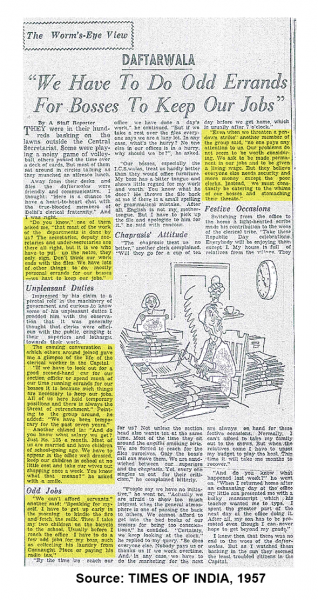 "Do you know," one of them asked me, "that most of the work of the departments is done by us? The secretaries, deputy secretaries and under-secretaries are there all right, but it is we who have to put up the notes, they only sign. Don't think our work ends with the files. We have lots of other things to do, mostly personal errands for our bosses- we have to keep our jobs."
"If we have to look out for a good second-hand car for our section officer or spend much of our time running errands for our bosses it is because such things are necessary to keep our jobs. All of us here hold temporary positions and there is always the threat of retrenchment." Pointing to the group around, he added:"We have been temporary for the past seven years."
Another chimed in: "And do you know what salary we get? Just Rs. 155 a month. Most of us are married and have children of school-going age. We have to appear in the office well dressed, keep our children in school at no little cost and take our wives but shopping once a week. You know what that means?" he asked with a smile.
"We can't afford servants," another said:"Speaking for myself, I have to get up early in the morning to kindle the fire and fetch the milk. Then I take my two little children on the bicycle to the school. Usually before I reach the office I have to do a few odd jobs for my boss, such as collecting his laundry from Connaught Place or paying his radio tax."
"Even when we threaten a pen-down strike" another member of the group said, "no one pays any attention to us. Our problems do not seem to be worth considering. We ask to be made permanent in our jobs and to be given a living wage. But they believe everyone else needs security and more money except the poor clerks. Instead, we must constantly be catering to the whims of our bosses and stomaching their threats."