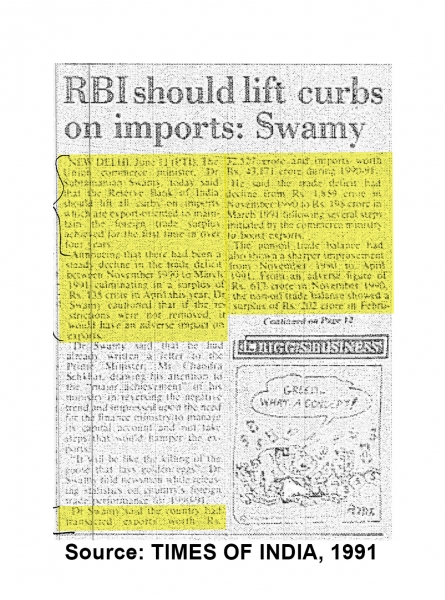 The Union Commerce minister, Dr. Subramanian Swamy, today said that the Reserve Bank Of India should lift all curbs on imports which are export oriented to maintain the foreign trade surplus achieved for the first time in over four years.
Announcing that there had been a steady decline in the trade deficit between November 1990 to March 1991 culminating in a surplus of Rs. 135 crore in April this year. Dr. Swamy cautioned that if the restrictions were not removed, it would have an adverse impact on exports.
Dr. Swamy said the country had transacted exports worth Rs. 32,527 crore and imports worth Rs. 43,171 crore during 1990-91. He said the trade deficit had decline from Rs. 1,859 crore in November 1990 to Rs. 198 crore in March following several steps initiated by the commerce ministry to boast exports.
The non-oil trade balance had also shown a sharper improvement from November 1990 to April 1991. From an adverse figure of Rs. 617 crore in November 1990, the non-oil trade balance showed a surplus of Rs. 202 crore in February 1991.