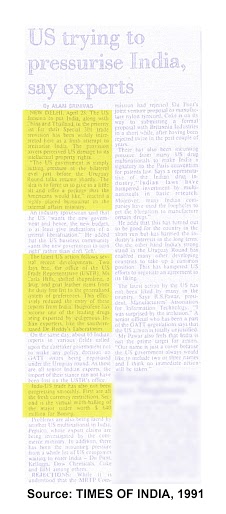 The US decision to put India,along with China and Thailand,in the priority list for their special 301 trade provision has been widely interpreted here as a fresh attempt to pressurise India.The provision covers perceived US damage to its intellectual property rights.
"The US government is simply putting pressure at the bilateral level just before the Uruguay Round talks resume shortly.The idea is to force us to give in a little bit and offer a package that the Americans would like,"reacted a highly placed bureaucrat in the external affairs ministry.
The latest US action follows several recent developments.Two days back,the office of the US Trade Representative(USTR),Ms. Carla Hills,shifted ibuprofene, a drug and goat leather items from the duty free list to the generalised system of preferences.This effectively reduced the entry of these exports from India.Ibuprofene has become one of the leading drugs being exported by indigenous Indian exporters like the southern based Dr. Reddy's Laboratories.
Indo-US trade has also not been progressing smoothly.First are all the fresh currency restrictions.Second is the virtual moth-balling of the major order worth $ 640 million for Boeing.