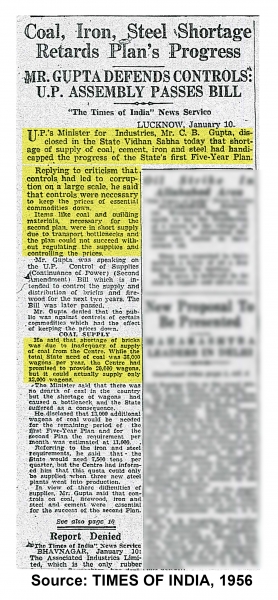 U.p's Minister for Industries, MR. C.B. Gupta, disclosed in the state Vidhan Sabha today that shortage of supply of coal, cement, iron and steel had handicapped the progress of the state's first five-year plan.
Replying to criticism that controls had let to corruption on a large scale, he said that controls were necessary to keep the prices of essential commodities down.
Items like coal and building materials, necessary for the second plan, were in short supply due to transport bottlenecks and the plan could not succeed without regulating the supplies and controlling the prices.
aHe said that shortage of bricks was due to inadequacy of supply of coal from the centre. While the total State need of coal was 36,000 wagons per year, the Centre had promised to provide 20,000 wagons, but it could actually supply only 12,000 wagons.