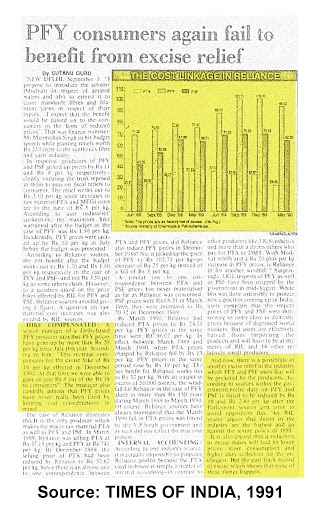 HIKE COMPENSATED:A senior manager of a Delhi-based PFY producer says that PFY prices have gone up by more than Rs. 20 per kg since July this year.According to him:"This increase compensates for the excise hike of Rs. 18 per kg effected in December 1990.At that time we were able to pass on just Rs. 8 out of the Rs. 18 to consumers".The manager also candidly admits that PFY prices have never really been fixed by keeping cost considerations in mind.
And now,there is a possibility of another excise relief to the industry which PFY and PSF users fear will be pocketed by the producers.According to resources within the government,excise duty on PFY and PSF is slated to be reduced by Rs. 18 and Rs. 2.40 per kg after the Parliament session gets over to avoid opposition flak.An RIL source argues that duties in the industry are the highest and go against the textile policy of 1985.
It is also argued that a reduction in excise duties will lead to lower prices more consumption and higher duty collection for the ex-cheques.But the past track record of excise reliefs shows that none of these things appen.