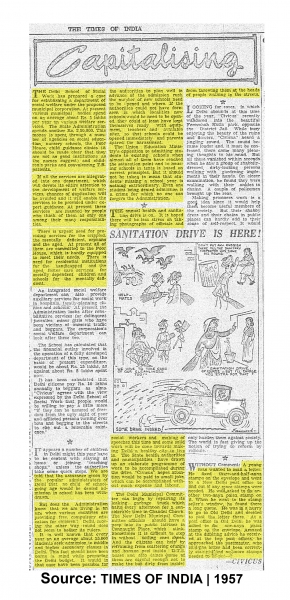 I. The Delhi school of social work has prepared a case for establishing a department of social welfare under the proposed municipal corporation. At present, various municipal bodies spend on an average about Rs. 5 lakhs per year on various welfare services. The State Administration spends under Rs. 2,50,000. This money is spent, through a number of agencies on social education nursery schools, the Poor House, child guidance clinics (it should be made clear that they are not as good institutions as the names suggest) and children's parks are convalescing T.B. patients.
If all the services are integrated into one department, which will devote it's entire attention to the development of welfare services, chances of duplication will be avoided and it will enable the services to be provided under expert guidance. At present these services are manned by people who think of them as only one among their many responsibilities.
There is urgent need for providing services for the crippled, the mentally deficient, orphans and the aged. At present all of them are committed to the Poor House, which is hardly equipped to meet their needs. Their is need for residential institutions for the handicapped and the aged, foster care services for socially dependent children and schools for the mentally deficient.
II. We are told that the assurance given by the popular administrators of Delhi that no child of school-going age would be denied admission in school has been withdrawn.
But does the Administration know that we are living in an age when various countries are providing free and compulsory education for children ? Delhi, moving the other way round does not seem to bother it's rulers.
It is well known that every year on an average about 15,000 students seek admission to middle and higher secondary classes in Delhi. This fact should have been borne in mind while preparing the Delhi Budget. It would in that case have been possible for the authorities to plan well in advance of the admission rush the number of new schools need to be opened and where. If the authorities could not have foreseen in which localities new schools would be need to be opened, they could at least have kept themselves ready with equipment, teachers and available sites, so that the schools could be opened immediately and parents spared the harassment.
The Union Education Ministry's opposition to admitting students to existing schools when almost all of them have reached the saturation point and to housing schools in tents is based on correct principles. But it should not be taken to mean that students missing a school year is nothing extraordinary. Even one student being denied admission is a crime for which no one can forgive the Administration.
III. The annual health and sanitation drive is on. It is hoped there will be less stress on taking photographs of officials and social workers and making of speeches this time and some solid work will be done towards making Delhi a healthy city to live in. The state health authorities and municipalities have drawn up an elaborate programme of the work to be accomplished during the drive. "Civicus" hopes attention would be paid to small jobs which can be accomplished without much expense and labour.
The Delhi Municipal Committee can begin by repairing its leaking garbage truck which halts every afternoon for a considerable time in Chandni Chowk. The New Delhi Municipal officials should have a peep into it's public latrines in Connaught Place, which stink. Sometimes its difficult to enter without soiling one's shoes. And the citizens can help by refraining from scattering orange and banana peel inside the D.T.S buses and also (since some of them are careful not to make the bus dirty from the inside) from throwing them at the heads of people walking on the streets.
V. Without comment : A young man wanted to mail a letter, He fixed three and a half anna stamps on the envelope and went to a New Delhi post office to find out if any more stamps were needed. He was asked to fix another two-naya paisa stamp o it. When he went to the stamp-seller's window, he found there a long queue. He was in a hurry to get to Old Delhi and decided to post the letter there. At a post-office in Old Delhi, he was asked to fix a one-naya paisa stamp on the envelope. Amazed at the differing advice he received at the two post offices, he approached the postmaster, who said that the letter had been correctly stamped and no other stamps needed to be put!