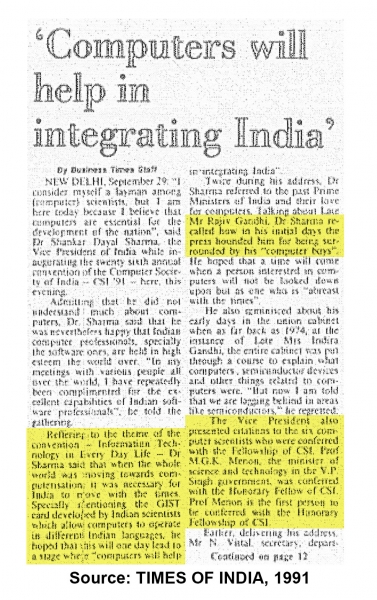 Referring to the theme of convention- Information Technology in Every Day Life- Dr Sharma said when the whole world was moving towards computerisation,it was necessary for India to move with the times. Specially mentioning the GIST card developed by Indian scientists which allow computers to operate in different Indian languages, he hoped that this will one day lead to a stage where computers will help integrating India.
Dr Sharma recalled how in his initial days the press hounded him for being surrounded by his"computer boys"
The Vice President also presented citations to the six computer scientists were conferred with the Fellowship of CSI Professor MGK Mennon, the minister of Science and Technology in the V.P. Singh government, was conferred with the Honorary Fellow of CSI. Prof Menon is the first person to be conferred with the Honorary Fellowship Of CSI.